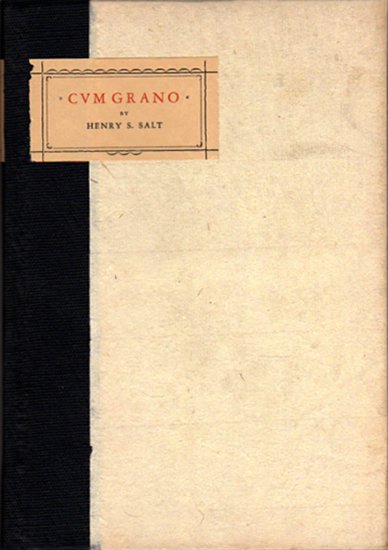 Publisher
Oriole Press, Berkeley Heights, New Jersey
Summary
Cum Grano is latin for 'a pinch of salt' or 'a grain of salt'.
Edition limited to 470 copies, of which 350 were printed on Canterbury laid, and 120 on Strathmore Wayside-text laid; only 420 copies for sale.
This little book contains a selection from a number of stray verses written during the past twenty or thirty years, some topical, some personal, some propagandist, but none, I trust, unworthy of the title under which they have been brought together.
The printed title is written CVM GRANO. The Classical Latin alphabet had only 23 letters and there was no letter U in the alphabet.
I. Foreward
II. Introductory
III. Part One - Old Saws Re-Sharpened
The Saw-Monger — New Maxims For Old — Take Things As You Find Them — A Bird In Hand — Love Me, Love My Dog — A Ready Writer — Ad Dead As Mutton — Sore Let And Hindered — A Revised Version — No Thought For The Morrow — The Sin He Avoided — Taking To Drink — In Stirring Times — Dramatic — Medio Tutissimus — Extremists — Taking It Lying Down — He Lied In His Throat — Look Before You Leap — While You Wait — The Babe Unborn — A Best Seller — The Courage Of His Convictions — Running Away To Sea — Power Of Attorney — Charging A Jury — The Plain Man — Jumping To Conclusions — In Abraham's Bosom — Christianos ad Leones — Calf-Love —Casting Pearls Before Swine — The Wings of a Dove — Nicknaming The Months — April Foolishness — Welcome, Wild North-Easter — The Seasonable — The Short and the Long of it — But Once A Year — And a Happy New Year
IV. Part Two - The Sophist Sent to School
Coursing the Fool — Heart and Head — Homo Sapiens — A Correction — What's in a Name —Tomorrow — An Independence — Those Idle Poor — On The Dole — Mr. Facing-Both-Ways — A Question of "Stopping" — Accounted For — Best Heads — The Elephant-Hunter — The Appeal to "Nature" — A Loss That is Gain — Death "After" Vaccination — Patient to Practitioner — A Lover of Animals — "He" and "It" — A Text to Let Alone — A Caveat — The Modern Xerxes — The Circus — Set Up — The Sending of the Animals — Dumb Animals — A Sympathetic Lady — The Open Mouth — Trespassers Will Be Prosecuted — The Right to Use The Road — A Saving Phrase — The Missing Word — Die-Hards — Piety and Pity — Epitaph on Laissez Faire
V. Part Three - Personalities
The Personal — To Edward Carpenter in Ceylon (1891.) — On Bernard Shaw's Seventieth Birthday — To Sydney Olivier — One Who Stared Skyward — Selections from the Poets — Darrow and the Sinner — E. V. L. — Shelley and the Superior Person — On Peck's "Life of Shelley" — Wordsworth's Early Excursion — A Cottage at Grasmere — The Opium-Eater — One World at a Time — Ballard of "B. L." (Bertram Lloyd) — A Mountain-Walker's Thanksgiving — Ode on O. Henry — I Sometimes Think — Like Book, Like Bookman — Sonnet to an Insatiable Sonneteer — But Do We Know It? — The Sweetness of the Unheard — If Shakspere Came to London — Former and Latter — Lying in State — The Pure of Heart — Two Better Than One — Ornithological Error — The Lecture on "Lycidas" — The "Changing of the Guard" — At The Grave Of The Unknown Warrior — Taking the Salute — India in 1930 — Epitaph on a Pious Cobbler — The Botanist — The True Museum — Childhood at the Hunt — To Metchnikoff, The Civilizer — The Duckling's Destination — The Pious Angler — A Busy-Body — The Suicide — The Buttonless — Search the Scriptures — The Sufficient Reason — Two Noodles — When All Goes Right — Self-Help — Washing Up — The Single Plater — Listening In — The Visitor — Showing Him Round — Our "Week-Enders" — Air-Flights — The Modern Ethelred — Over-Catted — My Dark-Robed Choir — No Love Lost — Epitaph on a Humanitarian
VI. Index
Reviews