The League for the Prohibition of Cruel Sports was founded in 1924 by former Humanitarian League members Henry Brown Amos and Ernest Bell, with the support of Henry Salt, Edward Carpenter and George Bernard Shaw. Its first President, Sir George Greenwood, was a former Humanitarian League committee member, whilst other ex-members served on its Advisory Committee.
The new League continued the work of the Humanitarian League's sports department including using their publications.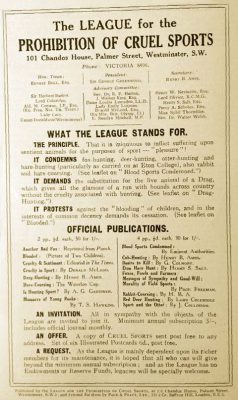 1927: President and Founders
Sir George Greenwood (President)
Henry B. Amos (Secretary)
Ernest Bell (Hon. Treasurer)
Advisory Committee
Sir Herbert Barker
Lord Coleridge
Ald. M. Conway, J.P. (Ex-President National Union of Teachers)
Lady Cory
Canon Donaldson (Westminster)
Rev. Dr. R. F. Horton
J. Walker King
Dame Louisa Innes Lumsden, LL.D. (Edinburgh)
Lady Emily Lutyens
Donald McLeod (Ex-Mbr. Brit. Olymp. CL)
E. Rosslyn Mitchell, M.P.
Henry W. Nevinson
Lord Oliver, K.C.M.G.
Henry S. Salt
Percy A. Scholes
Miss Sybil Thorndike
Rev. Dr. Walter Walsh
In 1931, Ernest Bell resigned, along with the President, the Hon. Stephen Coleridge, as did his successor, Lady Cory, the same year. In 1932 Ernest Bell co-founded the National Society for the Abolition of Cruel Sports with Coleridge and other dissidents.
The League for the Prohibition of Cruel Sports was renamed to the League Against Cruel Sports in 1938.