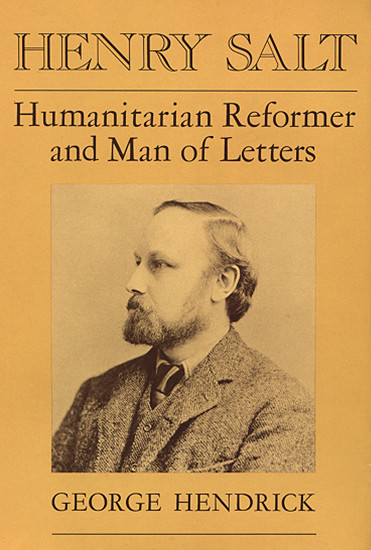 Publisher
University of Illinois Press
Summary
The precepts that had governed Henry S. Salt's long-time rebellion against convention were re-emphasized at his burial in remarks read exactly as he had written them: "I shall die, as I have lived, a rationalist, socialist, pacifist and humanitarian." Once the death notices had been published and his devotion to a multitude of causes acknowledged, this extraordinary man was forgotten.
In 1951 Stephen Winsten published a short book that made Salt known again; Hendrick goes beyond basic biographical facts to examine the originality of Henry Salt the humanitarian.
The volume variously concentrates on Salt's conventional youth and conversion to vegetarianism, socialism, and other 'isms', his place as a British man of letters, his interest in the ideas of Thoreau, and friendships with George Bernard Shaw, Mahatma Gandhi, and several other writers. Hendrick gives a clear, concise treatment of the intellectual life and work as social and literary critic of a figure who may be considered unique in his commitment to humanitarian goals. The book includes extensive quotations from many of the radical publications of the 1880s and 1890s in which Salt was published, as well as statements he made in Humanity and The Humane Review, two of his own publications. The appendix includes two of Salt's propaganda plays.
This account of Salt is a convincing presentation of his thoughts and works showing that Salt was much more significant and interesting figure in the Age of Shaw than is generally known or acknowledged.
Content
Introduction
Respectable
Socialist and Follower of the Simple Life
Humanitarian
Man of Letters
Salt and His Friends
A Lover of Animals (An Original Play in One Act)
The Home Secretary's Holiday (A Prison Play in One Act)
Index
Reviews