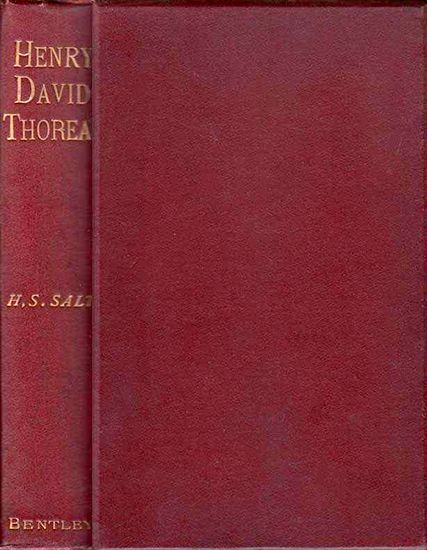 Publisher
Richard Bentley & Son, London
Editions
Second Edition
1896 Walter Scott Ltd., London, pp. 208, Hardback
Second Edition Reprint
1968 Archon Books, Hamden, Connecticut
Second Edition Reprint
2002 Elibron Classics, pp. 200, Paperback
Third Edition
George Hendrick (Editor), Willene Hendrick (Editor), Fritz Oehlschlaeger (Editor)
1993 Centaur Press; University of Illinois Press, pp. 190, Hardback
Third Edition Reprint
George Hendrick (Editor), Willene Hendrick (Editor), Fritz Oehlschlaeger (Editor)
2000 University of Illinois Press, pp. 192, Paperback
Summary
In 1890 Henry S. Salt published what most scholars have regarded the best Thoreau biography before Walter Harding's The Days of Henry Thoreau. The sensitivity of Salt's account of Thoreau's life and ideas is truly remarkable considering the disadvantages under which he worked.
In 1896 Salt revised and republished the biography in abbreviated form, cutting many long passages quoted from Thoreau's works. Salt also made needed corrections in the book, incorporating much information he had received from Dr. Samuel Arthur Tories, Alfred W. Hosmer, and other American correspondents.
Salt later prepared a third, substantially revised version of his Life of Thoreau in 1908 but was unable to find a publisher. Salt still contemplated publishing the revised edition in 1929. This third edition was finally published in 1993 by Centaur Press and University of Illinois Press, edited by George Hendrick, Willene Hendrick and Fritz Oehlschlaegar. A paperback reprint of the third edition was published in 2000 by the University of Illinois Press.
Content
Youth
Early Manhood
Friendship With Emerson
At Walden
Personality and Character
Literary Life at Concord
Excursions
Closing Years
Doctrines
Writings
Conclusion
Appendix
Reviews