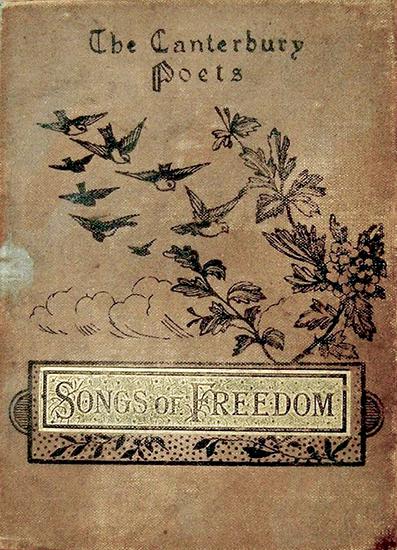 Publisher
W. Scott Ltd., London and New York
Summary
A collection of English and American poems illustrative of the growth of the revolutionary ideal - national, social and intellectual - during the past hundred years. Arranged in such a manner as to make it a record of the men no less than of the movement, of freedom's singers as well as of freedom's songs.
Part 1: Robert Burns, William Cowper, George Crabbe, William Blake, Robert Southey, Samuel Taylor Coleridge, William Wordsworth, Thomas Campbell, James Hogg, Thomas Moore, Edward Lysaght, Lord Bryon, John Keats, James Henry Leigh Hunt, Percy Bysse Shelley, Felicia Hemans, James Montgomery, William Cullen Bryant, Ralph Waldo Emerson. Contents
Part 2: Ebenezer Elliott, Anonymous ("Union Hymm"), Michael Thomas Sadler, Robert Nicoll, William Johnson Fox, Harriet Martineau, Thomas Wade, T. Noel, Ebenezer Jones, The Hon. George Sydney Smythe, Wathen Mark Wilks Call, Thomas Cooper, J. A. Leatherland, Charles Mackay, John Jeffrey, Charles Kingsley, Ernest Jones, Gerald Massey, Mary Howitt, Thomas Live Peacock, Robert Barnabas Brough, William James Linton, William Savage Landor, Robert Browning, William Allingham, Henry David Thoreau, Emily Bronte, William Lloyd Garrison, Elizabeth M. Chandler, John Pierpont, Henry W. Longfellow, John Greenleaf Whittier, James Russell Lowell, Edmond H. Sears, John Kells Ingram, Thomas Osborne Davis, J. De Jean Fraser, James Clarence Mangan, Thomas D'Arcy McGee, Richard Dalton Williams, "Sliabh Cuilinn" (nom-de-plume). Contents
Part 3: Walt Whitman, W. C. Bennett, James Thomson ("B.V."), Joaquin Miller, John Bedford Leno, Edward H. Guillaume, Robert Buchanan, The Hon. Roden Noel, John Boyle O'Reilly, John Addington Symonds, Wilfrid Scawen Blunt, John Stuart Blackie, Eric Mackay, H. E. Clarke, William Shearer-Aitken, Robert Bird, Timothy D. Sullivan, Michael Scanlan, Ernest Bilton, Edith Bland ("E. Nesbit"), James Leigh Joynes, Fred Henderson, Walter Crane, Thomas Wentworth Higginson, James Jeffery Roche, Francis A. Fahy, Fanny Parnell, John Barlas, Sidney Oliver, William Morris, Francis W. L. Adamsm, Edward Carpenter.