In 1859 Henry Salt's aunt, Emily Augusta Polehampton (née Allnatt) married Henry Marion Durand.
Major-General Sir Henry Marion Durand, KCSI, CB – Royal Engineers – died 1st January 1871. Son of Colonel Henry Percy, CB (14th Light Dragoons, Peninsula and Waterloo). Born 6th November 1812. Served Ghuzni 1839 (medal), Maharajpoor 1843 (star), Punjab 1848 (medal and 2 bars), Mutiny 1857 (medal and bar, CB). Married Emily Allnatt in 1859.
Asad Awan has kindly given us permission to use his photos of the tomb of Sir Henry Durand. The monument of Durand is located in the compound of St. Thomas's Church in the small town of Dera Ismail Khan in the North West Frontier Province of Pakistan.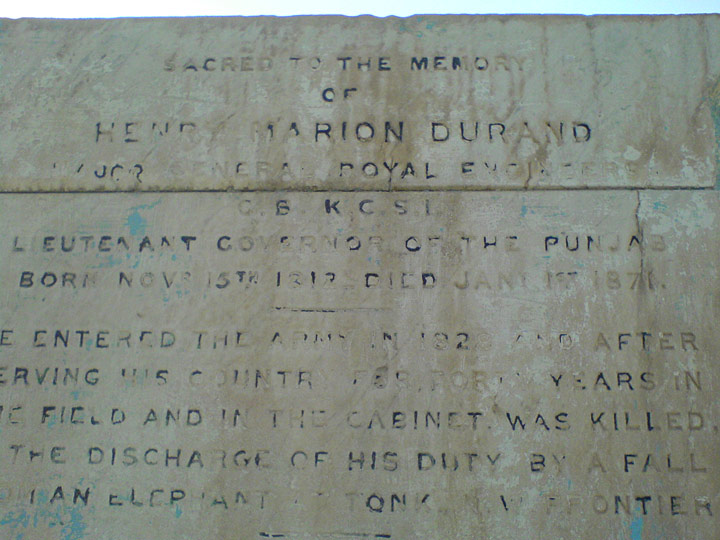 It reads: "Sacred to the memory of Henry Marion Durand Major General Royal Engineers C.B. K.C.S.I. Lieutenant Governor of the Punjab. born Novr 15th 1812 – died Jany 1st 1871. He entered the army in 1828 and after serving his country for forty years in the field and in the cabinet, was killed in the discharge of his duty, by a fall from an elephant at Tonk – N.W. Frontier."